During 2008 I started to get quite lax about keeping this monthly journal up-to-date. This continued into 2009 and was due primarily to my getting involved with planning my 35-year high school class reunion (see http://chs74.cvillehome.net). New photos were uploaded into the Photo Gallery, but I didn't really write much. Check the 2008 annual newsletter to catch up on that year.
Sep
May
Bruce completed his master's degree in Systems Engineering from George Washington University through a cohort program provided by Orbital Sciences Corporation. Bruce had been pursuing this degree since autumn of 2004.
Apr
Over the past several months, Andrew and the South Lakes High School Theater Department have been producing their rendition of Disney's Beauty and the Beast.
The show opened on April 10 and closes on the 18th. We had the pleasure of seeing it on the second night, a night for which the band was absent and off performing somewhere else. Nonetheless, the volunteer pianist seemed quite appropriate for the show and possibly added a softer touch than a band. At this point, Eileen plans to see another show with the band playing in the orchestra pit. We'll have to see what she thinks and will have to post another review then. But the performance on the 11th was quite good despite a few non-singer main actors and some minor technical difficulties. Overall, BRAVO!
Mar
After a very mild winter and March coming in like a lion, we're having some pleasantly early springlike weather here in the first half of March. Eileen is off to Pennsylvania to begin her annual workshop/seminar tour. Nothing much happening at home other than trying to get David enrolled at NOVA (community college) to carry our insurance on him through the summer. Yawn!
Feb
February began with warmer than normal weather and our 7th annual Super Bowl party. This year, over 50 people were invited and 40 joined us to watch the New York Giants defeat the New England Patriots in somewhat an upset of a game. It was one of the best games we've seen in the years we've followed the Super Bowl, and certainly the best party we've had in years. I don't think I can recall when so many of our guests actually watched the game. Thanks to all our friends who came out for our potluck gathering and created one super feast!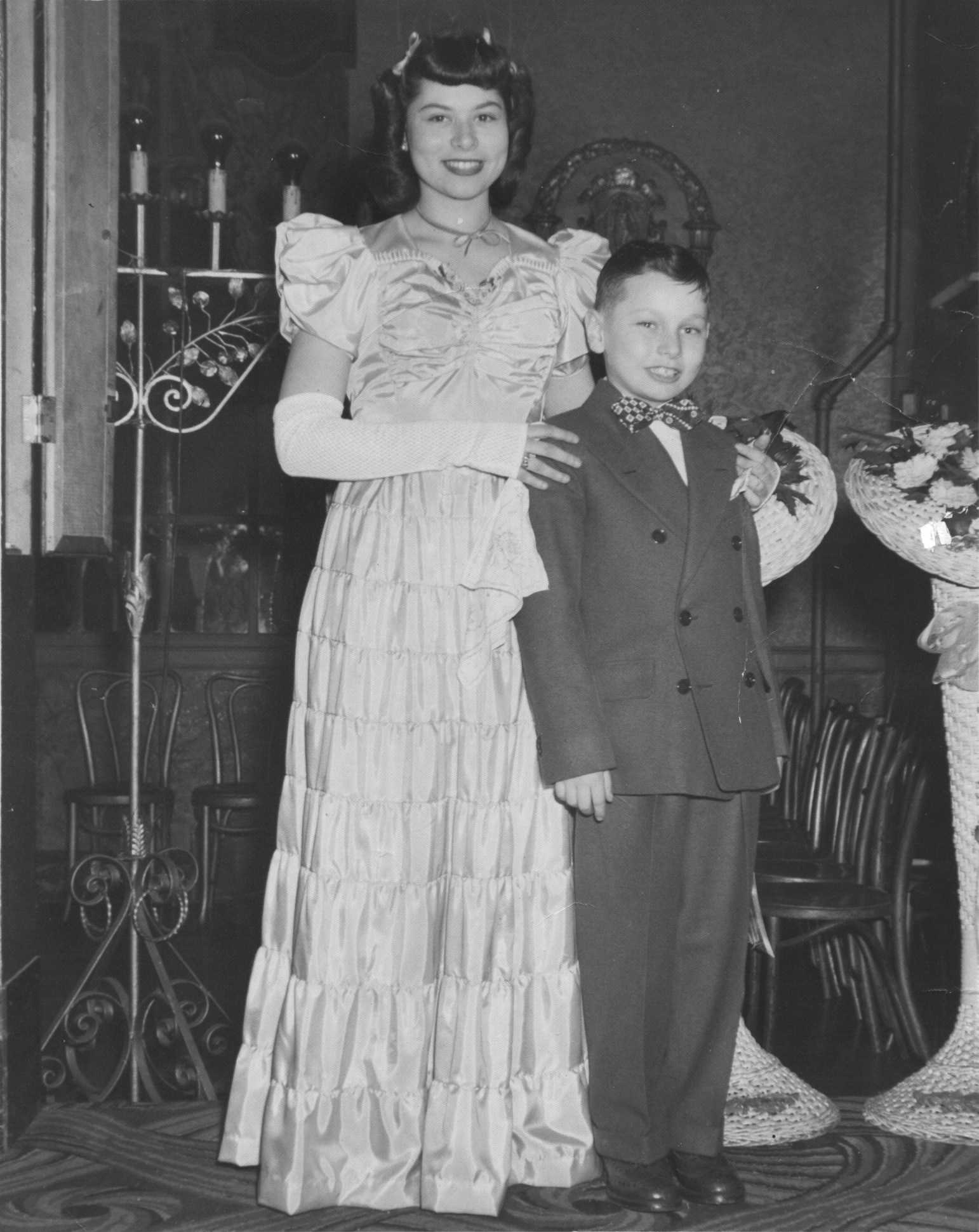 February has been a lot warmer than usual, but the great weather was overshadowed by the sorrowful loss of Eileen's Aunt Leila. Leila Woluewich lived in Staten Island, NY, for as long as I can remember. She was a loving mother, grandmother, and aunt and was loved tremendously by her entire family. Leila is Eileen's father Allen's only sibling and the first of her generation to depart from this Earth.
Eileen and Bruce drove to Staten Island on Valentine's Day to attend Leila's funeral and to be with her immediate family during their time of sorrow. The visit was solemn, but it was wonderful to see everyone.
Leila will be dearly missed. We all loved her very much.
February closed with a brief but memorable visit to see Rachel in Norfolk. We only took a handful of photos, but she was being unusually cooperative (read "awake"), so they came out pretty great.
Jan
Here we go again...Happy New Year 2008!!
Click here to read about The Powder Room Fiasco
The Powder Room Fiasco
Ok, so Minna Lackman (one of our past au pairs) asked about the bathroom incident. So I don't have to tell the story 100 times, I figured this was a good place to elaborate. It's not really THAT dramatic, but here goes.
When we had our house painted last year, we chose a faux paint job for the powder room just off the foyer. I told the painter (Antonio), whose English was not perfect, that we would be replacing the towel bar, mirror, etc. in the room and that he should remove everything and patch the holes. After he had finished, the paper roll was still where it was. So when I went to install the new one, the holes didn't line up with the new brackets. After several attempts at getting it right, I had pretty much destroyed the wall around the existing holes. So Antonio had to repaint that area, and you could easily tell where the touch up was done (the problem with faux paint schemes). No big deal, I can live with that goof-up.
After the painting was finished, Eileen decided she wanted a better/nicer faucet in that bathroom. There was a pedestal sink in there, which meant removing the pedestal to install the new faucet. When I went to do that, I first discovered that the way the faucet I had bought weeks prior was made, all sorts of hardware was going to be visible and the various pipes would have to be contorted to fit. It also appeared the faucet had been damaged during manufacturing. So I exchanged the faucet for another one that cost more than $100 more than the first one. When I finally went to install the new faucet, I first had to remove the pedestal, which involves cutting a lot of caulking (it's hard work). Before doing that, I made sure the sink bowl was securely lag-screwed into the wall, which it was. So after removing the pedestal, I checked to make sure the sink would hang on the wall on its own. It seemed pretty solid. I left the room to get my tools and to move the pedestal out. When I returned, I bumped into the sink and it abruptly ripped itself away from the wall and was hanging by the lag screws. It took about an inch or so of the new paint along with it, so the paint job around the sink was ruined. Eileen was not happy, and rightly so.
At that point we needed to decide whether to have Antonio come back and completely repaint that room (it cost $750 the first time) or replace the pedestal sink with a vanity. I hate pedestal sinks for this very reason (they make simple plumbing jobs difficult), and I eventually convinced Eileen that would be a better way to go. So we began shopping. We found a very nice custom-made 24"-wide vanity and a granite top/sink bowl at Home Depot Expo Center. This would set us back about $800. The sales person pushed us to put a deposit down for installation, which she estimated at roughly $150 (though she could not guarantee that). Since installation would involve cutting the baseboards where the vanity would be, I decided $150 would be worth me not having to do it. Well, when the installation estimator came, he left his estimate of $650 with Eileen. I couldn't believe how high it was! I called Expo Center and complained that if I had known such a simple installation would cost that much I would never have put the installation deposit down. I accused them of shrewd business tactics and demanded a refund on principle. They made themselves extremely difficult to contact, but after a few weeks I did manage to get them to agree to refunding the $100. The vanity was still not in after 3 weeks, so we started to get concerned. I called about twice each week because it became clear they were not going to call us when it came in. After nearly 2 months (!!!) it finally came in, so we drove down to get it.
I have to admit, it is a very nice vanity. Now I had to find a way to cut the baseboards so the vanity would fit flush against the back wall. I decided that rotary tools would work best, so I bought what I thought I would need and borrowed some tools from a neighbor. My first cuts were way off, fortunately just too close together and I could just make two more cuts. This part of the job took about 3 hours not including several hours of shopping for tools. And what a mess it made (not to mention the smell of burning wood that lingered for days). But that part was done.
I proceeded to lag-screw the vanity base to the wall and it fit pretty well along the baseboard. It is high enough that the granite backsplash would easily cover where the paint had ripped. So I proceeded to glue the granite top to the base. Wow, looked great! But I didn't notice the ceramic sink bowl had been glued to the granite in improper alignment until I had already glued it to the base. The overflow hole was off by a good 5 degrees. Oh well, still looks great.
The rest of the job went very well, that is until I went to rehang the oval mirror. The granite backsplash was about 1/2" too high and the mirror would not mount in the same position it had been. So now we would need a new mirror also. But that's okay because neither of us really liked that mirror anyway. But now with a very specific size mirror required, we began shopping again. We looked for an appropriate mirror for what seemed an eternity. Finally, while visiting Rachel in Norfolk we were at one of the area shopping malls and found a mirror that looked like it might work. We measured it and it was pretty much the exact size we needed. And the finish was ornate but not too ornate and consistent with the color of the vanity base. So we bought it. The last piece was finally in place.
This whole project took nearly 6 months to complete, but we are extremely pleased with the results.