2007 turned out to be a pretty good year after all. You can read a month-by-month summary by clicking on the tabs below.
Dec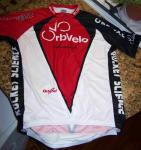 Ah, December. The end of the year, and the start of the most wretched season on the planet. I hate winter... with a passion. But it has its perks. I mean, part of the football season happens during it, as well as the Super Bowl (complete with party at the Scherzingers). It's also the month Chanukah usually falls within, and we got techie this year with a new TV for the family room and a new portable navigation system for not getting lost anymore (mainly for Eileen).
But best of all, the new OrbVelo bike jerseys finally came in. Look how cool they are! (click on the photo to see an enlarged view).
Nov
November found us freezing our buns off at the Reston Annual Holiday Parade, which included the South Lakes High School Seahawks Marching Band (starring Andrew Scherzinger on flag). My favorite part of the parade, other than the band of course, was all the hot rod cars! What they have to do with this season is beyond me, but they were definitely COOL.
Bruce finished another GWU course with an A grade, leaving only two more courses to complete for his degree.
Oct
Bruce and Eileen celebrated their 24th anniversary doing absolutely NOTHING. The month got spiced up a bit when they attended a gala at Hotel Hershey in Hershey, PA, put on by the PMCA (Pennsylvania Manufacturing Confectioners Association). It was one of those nice getaway weekends, and the folks of PMCA are a really fun bunch. Bruce and Eileen enjoyed the gala as well as the hotel's famous Circular Dining Room and Hershey Gardens.
Sep
September was a very special month for Bruce's sister, Linda Bardiasian, her husband, Chris, and their family when their daughter, Jessica married Nick Marchetti at the Rough Creek Ranch in Glen Rose, TX. The entire ranch, all 11,000 acres, were exclusively reserved for an entire weekend for the occasion. The whole Bardasian family was there, including Chris' mother, Alice, and his sister Mary Alicia (Mini). It was a very memorable event, to say the least.
Aug
In August, David returned to GA Tech to start his junior year as a yellow jacket. This time, however, it wasn't a family affair. Bruce just took him there, got him settled into his North Ave apartment, and went back home. Andrew's involvement in marching band was in full swing, requiring occasional weekend road trips for competitions. In August, the South Lakes High School Seahawks Marching Band competed at Herndon High School.
Jun
Eileen went off to Madison, WI, for her annual two-week "Resident Course" for NCA. Every year, more and more companies register to attend. That means eventually there will either need to be more than one of these extremely popular events held each year or it will have to move to a larger venue and a different time of year. Eileen also is a critical planner for the "All Candy Expo" in Chicago as well as other industry conventions and training seminars. She's traveling quite a bit these days, leaving Bruce at home to be "Mr. Mom". Hey, despite all that happening, Bruce still managed to get an "A" in his summer semester course from GWU. Only one more year to go!
This June will forever be a particularly special month because Rachel's "Make-A-Wish" was finally granted. The kick-off celebration was held at St. Mary's Home for Disabled Children in Norfolk, VA. The food is being donated by Coastal Catering. Rachel slept the entire day, but she was wide awake the following day for a trip to MacArthur Center Mall where she enjoys shopping and, this time, some gourmet pizza at the mall's new California Pizza Kitchen restaurant. Since we sold our van last year, we relied once again on the great folks at the ARC of the Piedmont, in Charlottesville, VA, who bought our van and loaned us one of their fleet of vans to take Rachel out. Our thanks especially go out to Brett Spitale of the ARC, for the generosity and trust he shows toward us. Coincidentally, Rachel had just received her new custom-made wheelchair and was showing it off for this grand event. Awesome!
May
Of course, May is a birthday month at the Scherzinger home. Both Andrew and Rachel celebrated their birthdays. We were not able to visit Rachel this month, but we did have several wonderful webcam visits and the St. Mary's staff threw a birthday party for her.
This month, along with Nick and Brendy Hantzes, we donated a 46" Sharp Aquos 1080p LCD HDTV and Acer compact computer system to St. Mary's. Now when we have our weekly webcam calls with Rachel, not only can we see her but she can see us (when she's awake). She definitely sees us on the TV there when she's alert, and she appears to enjoy it. Of course, this technology is not meant to replace in-person visits to Rachel, but it sure makes the time in between seem a lot more like being there every week. The Hantzes plan to be able to use the system to have virtual visits with their daughter, Molly, and we all hope to use it for annual IEP (Individualized Education Planning) meetings with the St. Mary's staff. Of course, St. Mary's uses the equipment for their own purposes as well, such as for presentations and demonstrations.
Apr
On Good Friday we went down to Norfolk to visit Rachel. Can you believe it?...it SNOWED on April 7th over most of the eastern U.S. Weird weather! Rachel was in good spirits, though still sleeping most of the time we visited her. We met with her Make-A-Wish granter to setup her weekly gourmet meals for an entire year! (nice idea, Eileen).
Right before leaving for Norfolk, Andrew got the news that he was not accepted into Thomas Jefferson High School for Science and Technology (where David attended). So he'll have to tough it out at the newly renovated South Lakes High School. Awwww...
At Congregation Beth Emeth, Andrew attends "Hebrew Chai". This month, they paid tribute to holocaust victims and their families with a special ceremony for which all the students prepared drawings, poems, and/or stories depicting what they believed life must have been like in a concentration camp. It was quite insightful.
Mar
Well, March came and went in a flash. A couple things of note happened this month. First of all, David came home for spring break. There are some photos in the album from this visit. Andrew's Vex robotics team participated in a scrimmage at the DC Building Museum. Also, Andrew's drama club performed the delightful play "You're a Good Man Charlie Brown". Andrew was a member of the tech crew.
Bruce officially began his new job as a Systems Engineer with Orbital this month. It came with little notice at work, but the family certainly expressed how proud they were. The new job means Bruce is officially no longer a software engineer, a profession he has practiced since two years before graduating from college in 1979.
The weather finally broke and bicycling season became viable. Bruce rides his bike to work as many days a week as he possibly can. This saves a ton of money on gas, but the exercise is the biggest benefit.
Feb
We finally broke down and had a good bit of the interior of our house painted. Click here to see photos. Man, this year is going by so fast. We also got down to Norfolk to see Rachel this month. She's doing fine, but seems to sleep a lot lately. In fact, there are entire days when she could sleep through a continuous train wreck.
Jan
This month, Andrew was a member of a Vex robotics team that competed in Newark, Delaware, in the First Vex Challenge (FVC).